Stock Photo AI
Get the most out of your stock photo collection with AI-powered tools. From photo recognition to color extraction, we've got you covered.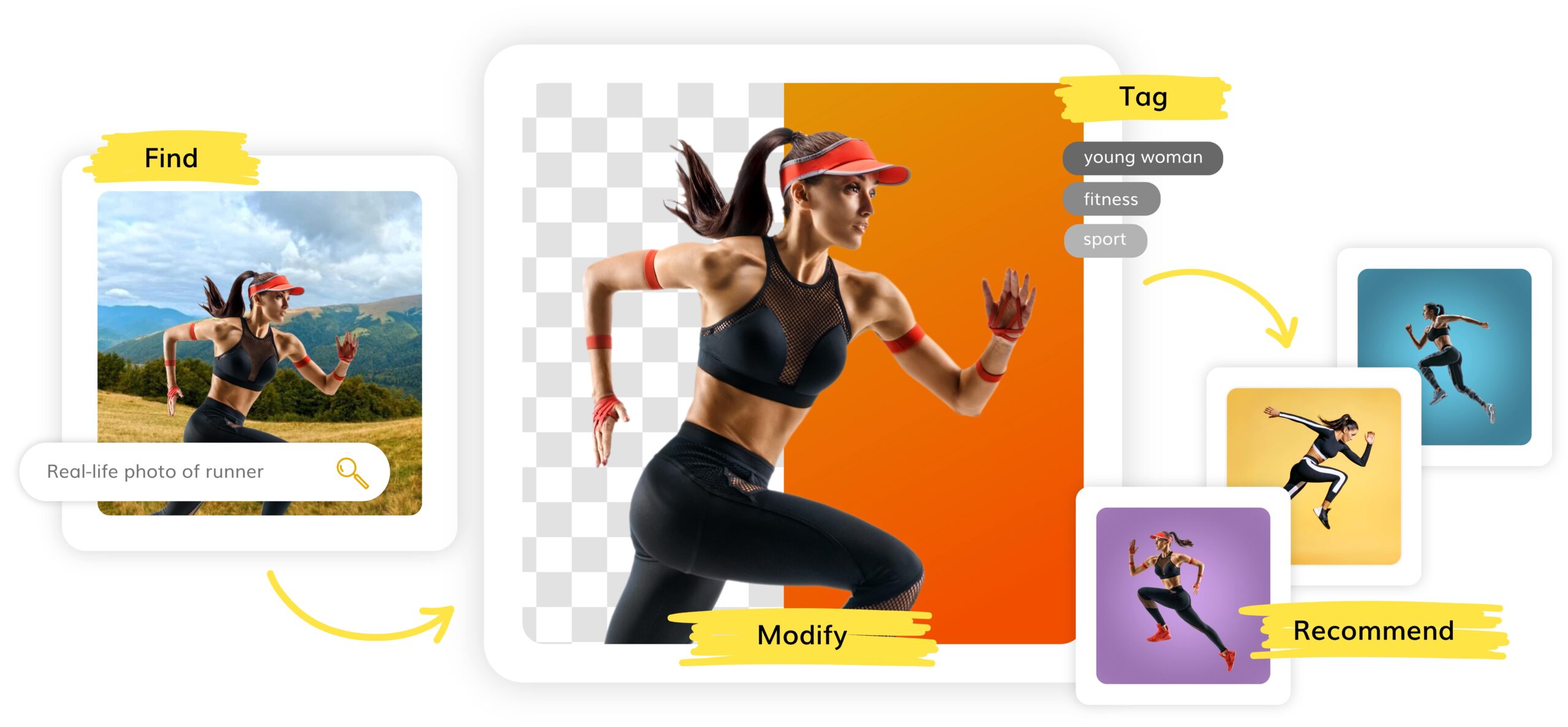 Rich Photo Tagging Powered by AI
Make image search & labelling easier for your customers with a rich taxonomy comprising tens of thousands of attributes.
PHOTO TAGGING
Automate the Tagging of All Images
Use smart photo tagging powered by advanced image recognition, which can recognize whole images, scenes, and objects.
Make image search & labelling easier for your customers with a rich taxonomy comprising tens of thousands of attributes. See it in action!
Supercharge Your Search
Strong image search makes exceptional stock photo websites. Your photo search engine can now integrate both language & image analysis.
TEXT TO IMAGE SEARCH
AI That Actually Understands Text
The best picture search combines multiple approaches and understands both text & image queries.
Text-to-image search by Ximilar is able to understand natural language and find the most relevant images in your collection independent of keywords. See how it works.
REVERSE IMAGE SEARCH
Search by Image in Any Collection
Provide your users with an efficient image finder based on a search by photo in any format.
Reverse image search is based on true visual search, analyzing features such as lights and shades, colors, patterns, shapes, or edges. It can be combined with object detection.
PHOTO SIMILARITY
Recommend Similar Content
Help your users discover new images with similar photo search & recommendations. It can work independently or combined with tags or keywords.
The similarity search provides relevant results based on computer vision and deep learning. It can also be used to match & eliminate duplicate images.
Stay Ahead With AI Image Enhancing
AI-enhanced images are the new industry standard. Make sure your content stands out with higher image resolution & background removal.

IMAGE UPSCALER
Increase Image Resolution in Bulk
Enable the community of your contributors and customers to get the most out of their images with super-resolution image enhancement.
Pixel-based image upscaler multiplies pixels 2–8x times to increase the image resolution without adding new details
Generative image upscaler adds new pixels based on intelligent image analysis, resulting in natural and eye-catching photos
Discover Image Tools
BACKGROUND REMOVAL
Intelligent Background Removal
Include a smart background remover into your image editor, or clear the background from entire collections of photos.
Background removal can detect the dominant foreground object(s) and erase their surroundings. It is ideal for whole collections of product pictures, as well as manual editing.
Extract Dominant Colors
Enhance the search, filtering and recommendations of photos with precisely extracted color pallets.
DOMINANT COLORS
Extract the Colors of Images or Objects
Extract the colors of whole images or objects in their foreground. Our AI is able to recognize millions of colors and find the closest shades in your palette.
You can use one or both of these options:
Dominant color provides one dominant RGB color that can be easily used for search & filtering
Pantone palette provides a group of main colors, their names, Hex codes, and coverage in per cent
SEARCH BY COLORS
Color-Based Search & Image Discovery
Your image search can be enhanced with basic or exact colors and the closest shades or whole palettes.
Use the extracted colors for sorting, filtering or recommendations of images in your collection, and inspire your community with curated mood boards based on colors.
Documentation
OUR CUSTOMER
Stockphotos.com Use Ximilar's Visual Search & Color Extraction
Stockphotos.com, one of the leaders in the stock photo industry, uses Ximilar's visual AI.
Millions of their photos and vectors are easily searchable by tags, reverse image search, and content recommendation powered by our platform.
Go to StockPhotos
Data Privacy First
We do not store your images. They are analyzed and the extracted metadata stored at our servers in EU under the GDPR regulation.
Read more
Connect via API
Put together a custom combination of solutions and upgrade them anytime. Connect via REST API, synchronize your collection and pay for the actual usage.
API Documentation
On-click Automation
The solutions can be used right away individually or combined. They are customizable to fit your taxonomies, standards & infrastructure.
See Pricing
Frequently Asked Questions
API Documentation
Here are examples of curl requests for our easy-to-use REST API.
FULL DOCUMENTATION