E-commerce websites employ huge content management teams to improve their listings and drive sales. A lot of information can be extracted and automated visual data — from furniture listings, hotel room listings, real-estate listings to apparel e-commerce sites.
Progress in artificial intelligence and computer vision now allow these companies to automate part of their content team and vastly improve their listings while driving up sales.
E-commerce competition is fierce.
Huge retailers sell near commoditized items, and consumers are looking for a more personalized experience. They want to buy unique products cheap. E-commerce sites need to improve their listings and offer the most relevant items to potential buyers. Vast content management teams must manually go through never ending feeds of items from suppliers. It is manual and tedious work.
E-commerce sites need to improve their listings and offer the most relevant items to potential buyer.
How can image recognition help?
The solution is to use custom image recognition. E-commerce sites can easily train their own image recognizers. For example, Biano, a leading Czech home & decor e-commerce site, integrated the Ximilar platform to process their vast and dynamic product catalogue. This allowed them to fine-grain categorize their listings and offer customers to more quickly find what they were looking for and closing the sale. It also allowed automating the routine and tedious work of the content management team, who could focus on more quality work of content creation and automate categorization.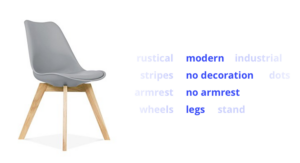 Biano dedicated part of the original content team to work with Ximilar's web app, where they can define and train their own recognizers. These are then implemented in their current admin dashboard.
Using deep learning based image recognition allowed them to recognize very specific features of their products — like whether the chair has armrests or not or what kind of face a bed has. Biano users can then easily specify what they are looking for and filter the product listing accordingly — driving up the sales.
In short.
Implementing visual artificial intelligence delivers real value to e-commerce sites. Cutting down content team costs, allowing for better customer engagement and driving up sales.
Call to action
Ximilar offers tools for e-commerce websites to easily implement image recognition, such as described above. Improve the content management of your e-commerce site.